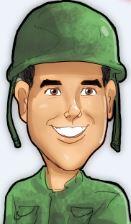 JPCashFlow.com is the brainchild of two military buddies: James and Peter. James hails from the Millennial Generation and Peter is a Gen X guy. After meeting in 2010, it wasn't long before the two found a common bond in financial education. Despite the age and life experience differences, the two set out to understand what was really going on in our financial system. The conclusion they both came to was that "cash flow" is both the main problem for most people and it is also the only solution to that pain. Both being federal employees, they knew that their day jobs would never result in financial independence or the freedom they sought from the daily fiscal worries every middle class person feels. This set in motion a quest for knowledge on methods and techniques for generating cash flow outside of the typical "9 to 5" pay check mentality that has gripped modern society.
James and Peter have a goal to help you better understand your money, as well as your options for generating positive cash flow. While they are both still on their own personal journeys to financial independence, they seek to help others avoid the mistakes they have made on their own path and share the successes they have experienced. Learning is a team sport and helping others is the best value currency we have in this world. They hope that you will share what you learn on this site with your loved ones, so that they too can achieve their fiscal goals.
About James


Hi, I'm James. I'm the older of two boys and was raised by my Mom who was a single parent. Much of my childhood was spent in poverty and I learned from a young age how important money was. My Mom is an amazing person. Despite dropping out of high school because of family problems and nothing but a G.E.D. certificate in hand, she eventually was able to take my brother and me out of poverty to middle class status. I admired her work ethic and it rubbed off on me.
My interest in entrepreneurship started from an early age. In grade school I found that I could sell my classmates trinkets like fun looking pencils and items "won" in the 25 cent vending machines at a significant markup. While school administrators didn't take well to my startup concept and my Mom didn't much like getting called to the Principal's office, it was my first capitalistic venture. Later, in Middle School when my family was in the toughest of financial straits, I was often ridiculed for not having the named brand clothing that my peers had. The teasing resulted in me developing a strategy to sell baseball and basketball cards, much as I had sold those trinkets, in order to bring in personal cash flow.
While I always was fascinated by business and investing, the events of 9/11 charted my career course. I was 17 years old, soon to turn 18, when the Twin Towers fell in New York and the Pentagon was attacked. I was both horrified and angered. I made the choice to enlist in the Air Force and have served ever since. During this time I pursued a Bachelor's Degree in Political Science with a minor in Psychology at Central Connecticut State University. After graduating I served overseas in support of Operation Enduring Freedom. After my deployment, I eventually commissioned as an officer and later pursued my Masters in Business Administration by virtue of a full scholarship to the University of Phoenix.
My journey back to entrepreneurship and investing started in the aftermath of the 2008 "Great Recession". Having witnessed so many people hurt by our economy, I became determined to educate myself on the intricacies of our financial system. As a federal employee, I was briefly laid off during a budget crisis and it was at this point I set financial independence as a personal goal. I never wanted to worry again about a paycheck and since that day, I've pursued a number of avenues to help me achieve that goal. My side businesses have included affiliate marketing and retail sales through Amazon. My investment interests include private equity, commodities, real estate, options trading, and non-traditional investments such as crowdsourced lending.
About Peter


I'm Peter and I am the youngest of six. My parents raised us in a hardworking middle class family and although we didn't have as much as our friends, as a family, our parents always sacrificed so that we could have what we needed. I went to Catholic schools most of my life and after graduating high school, joined the Air Force. After serving two years in Active Duty, I transferred to the Air National Guard and have been there ever since.
In 1993, I started my career with the Air National Guard full time after getting off Active Duty. I was excited about my new job and the pay I was now making compared to my previous pay was significantly more. I was fortunate that a co-worker was very involved in the stock market and told me to immediately begin saving for retirement through our 401(k). After approximately two years, I sat with a Financial Planner and put some numbers to paper with him. We developed a plan that would get me to my retirement.
Sadly, over 20 years later I realized there were a couple big problems with my plan and that I was not going to reach my destination in the time frame I wanted. As a matter of fact, it was clear that this plan was never going to bring me true independence.
This has set me on a path to fix my issues and ultimately inform everyone I could about the flaws in the system that I discovered through my experience. I met James when I transferred into a new position and we shared an office. It wasn't long before I introduced James to "Rich Dad, Poor Dad" by Robert Kiyosaki. We discovered that we shared similar ideas on money; we both want to improve our financial lives, as well as the lives of those we care about. I have always been interested in being my own boss and never having to worry about money, but I could never get over the obstacles that I routinely ran into.
This has ultimately brought us to JPCashflow.com. Two ordinary guys, separated in age by over a decade, but wanting the same thing: financial freedom. We started this blog in hopes of reaching others who could benefit from our experiences. I have also been taking a comprehensive training course on options trading, which has taught me a variety investment techniques which I now employ, in addition to strategies that can improve the performance of my 401K.